About Novo Precision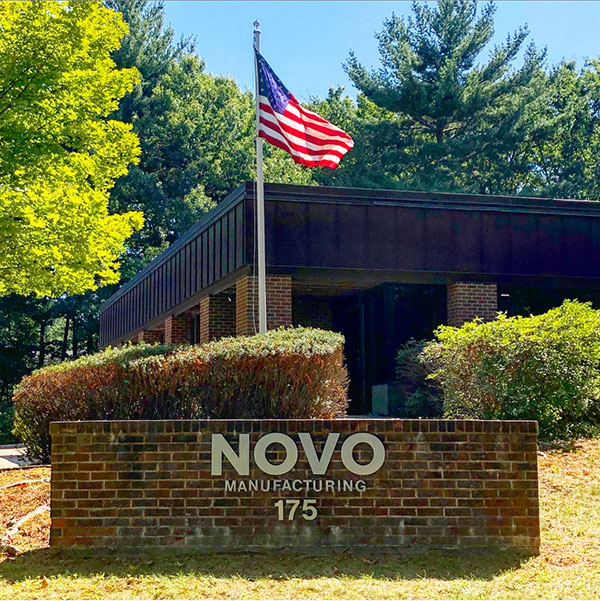 Located in the innovation zone of Bristol, Connecticut, Novo was founded in 1980 as TAK Enterprises, a producer of wire forming products. Purchased in 2014 by Bill Hazard, a veteran of the Lean/Toyota System of world-class manufacturing, the company is known today as Novo Precision.
Novo offers a strong team of mechanical, manufacturing and quality engineers, as well as an on-site R&D center that greatly streamlines product launch and solution development. Novo has the capability to source materials, fabricate equipment, and engineer manufacturing processes to make your components. Or, we can create a turnkey system and train your staff to manufacture the components in your own facility. However you utilize Novo's expertise, we provide the technology and the logistics to help you solve real world problems while you focus on your core strengths.
Novo is experiencing rapid growth as a progressive supply chain partner focused on data-driven operations, updated quality systems and improved production methods. We've even expanded our value streams to offer innovative products like our Lean Metrics Stand that displays daily performance metrics to allow all team members to contribute to your organization's success.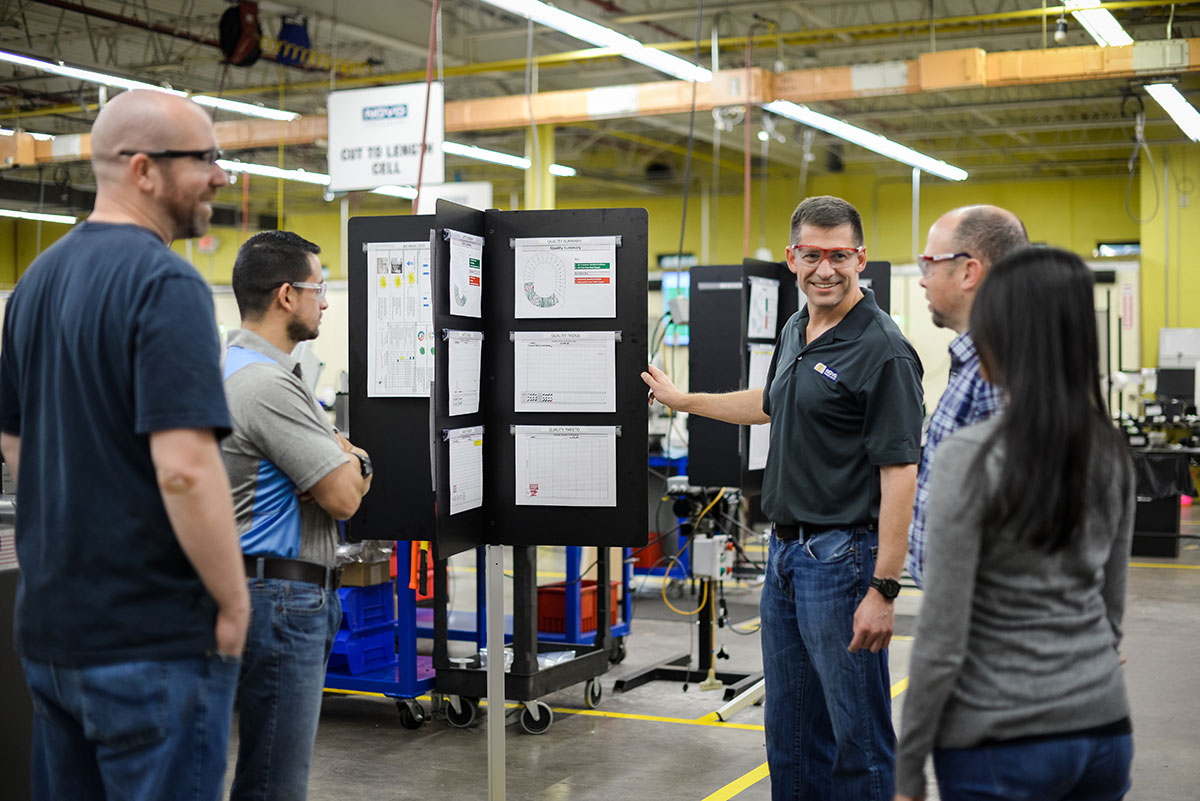 Novo Value Streams
Precision Wire Components
Cut to Length
Precision Machining
Equipment & Engineered Systems

Precision Wire Forming
Medical Staples & Clips
Roll Formed & Cold Headed Pins

Wire, Strip, Cable, and Tube Straightening & Cutting
Wires with Finished Ends
Medical Wires with Finished Ends
Medical Markers
Solder Preforms

Pistol Barrel Blanks
Trigger Guards
Small Milled Components

Precision Wire Straighteners
Spring Detanglers
Cut to Length Systems
Payoffs
Vertical CNC Broach
Engineered Turnkey Systems for Linear Material
Our Lean Supply Chain Operations
Novo's Lean approach emphasizes the importance of continually improving workflows and quality, while reducing production time, cost, waste and environmental impact. Our manufacturing floor is organized in work cells for each of our value streams to optimize space, efficiency and work flow. And we pride ourselves on the agility to react quickly to our customers' needs and market changes, while also being able to ramp up for efficient large-scale production. These capabilities are all driven by our passion for improving our organization with a culture of data-driven decision making.
Our Data-Driven Culture
For Novo, data has become a catalyst for company-wide improvement. Our exceptional customer focus is built upon collecting and analyzing key information, then basing decisions on insights derived from the data. With daily and weekly metrics that include Safety, Quality, Delivery, Cost, and Morale, we track every step of your project to ensure we make critical project milestones with highly predictable performance. We treat business data as a strategic asset, and our entire team comes together on a shared mission to improve the organization and their own work.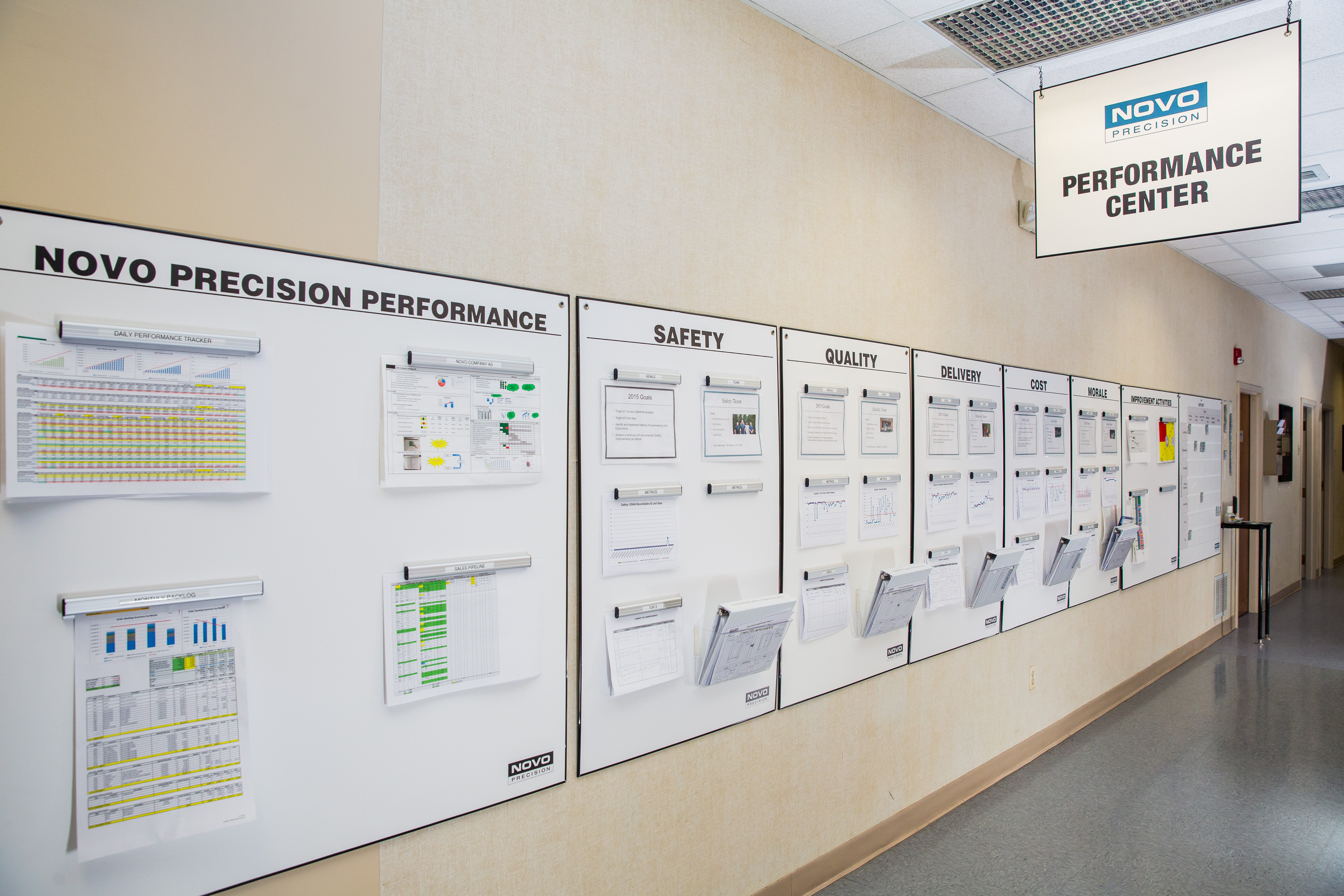 Our Committed Team Members
Our data-driven approach works so well because of our commitment to transparency with our team. We educate every member on how to interpret and use the data to amplify the impact of their work. Performance metrics are displayed at our central Performance Center and at each of our work cells, on our Lean Metrics Stand to foster teamwork, engagement and high performance. When our team members are armed with the data to make confident decisions, they're able to grow and better contribute to the success of your project.