The Lean Metrics Stand: What Gets Measured, Gets Done
Posted on by Sherwood Griffing
For companies that successfully transform their operations to achieve greater manufacturing efficiency, the common theme is their ability to communicate an operational vision to their teams.
Novo's president has 20 years of Lean manufacturing experience, and we have distilled that expertise into a turnkey system for bringing operational data right to the shop floor.
We treat business data as a strategic asset, and our entire team comes together with a shared mission to improve the organization and their own work.
Now we're offering the same Lean Metrics Stand we use in our own facility to other companies that are just as intent on achieving continuous process improvement through data-driven management.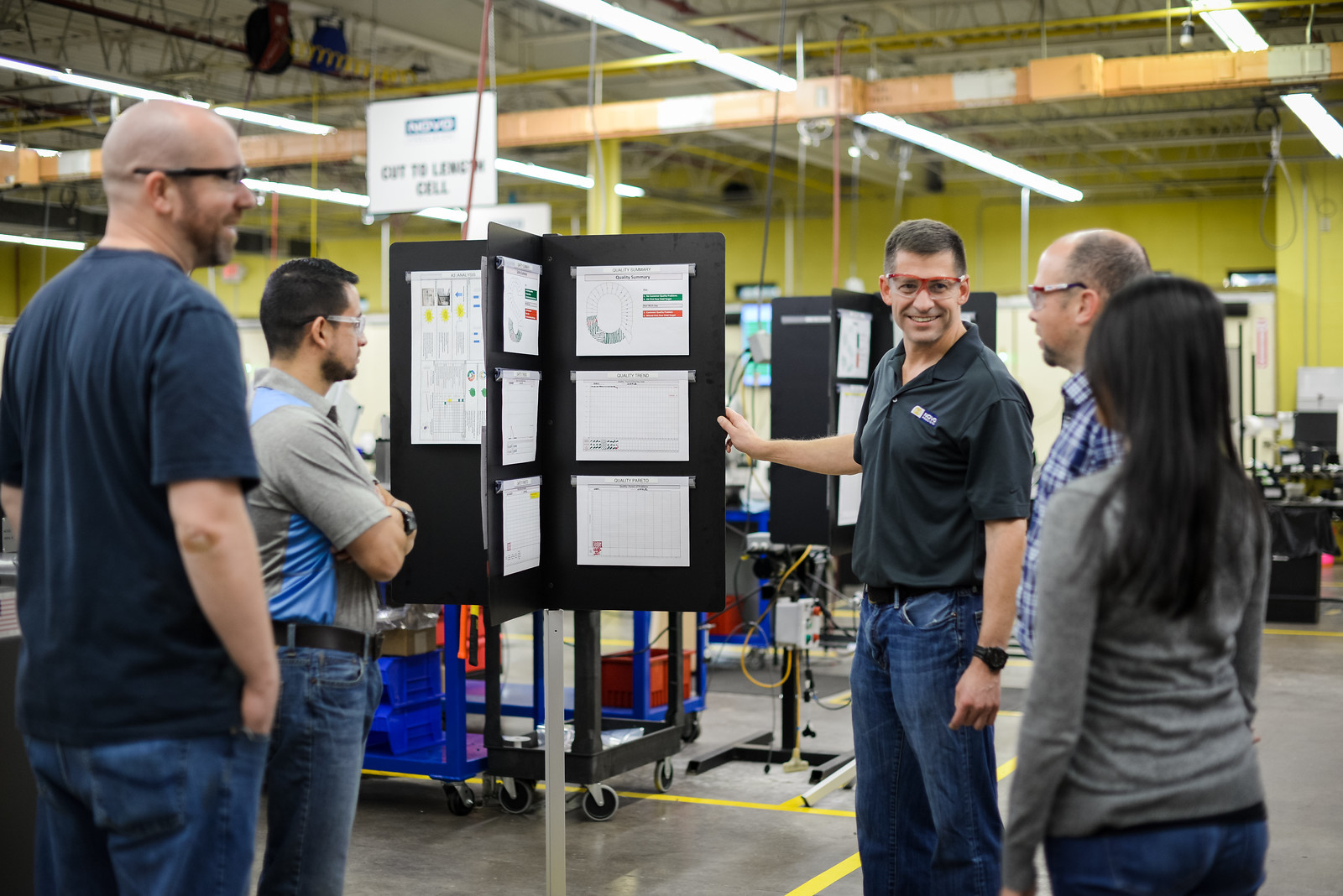 Better Shop Floor Management Means Superior Performance
With the Lean Metrics Stand, you can now display easy-to-interpret, actionable information in a footprint of less than 3x3 feet. Not only is the Lean Metrics Stand more compact than the conventional 50-square-feet of wall boards, this freestanding continuous improvement tool is simple for one person to move right into the work cell so your performance metrics will never be out of sight against a wall or hidden in a corner.
Your line workers and managers will get feedback where it's needed most—close to the point of use—so they can interact with the data, understand problems and develop a strategy to improve. It's the same management system we've used at Novo to deliver continuous improvement, including increasing employee productivity by almost 46% in just the last two years.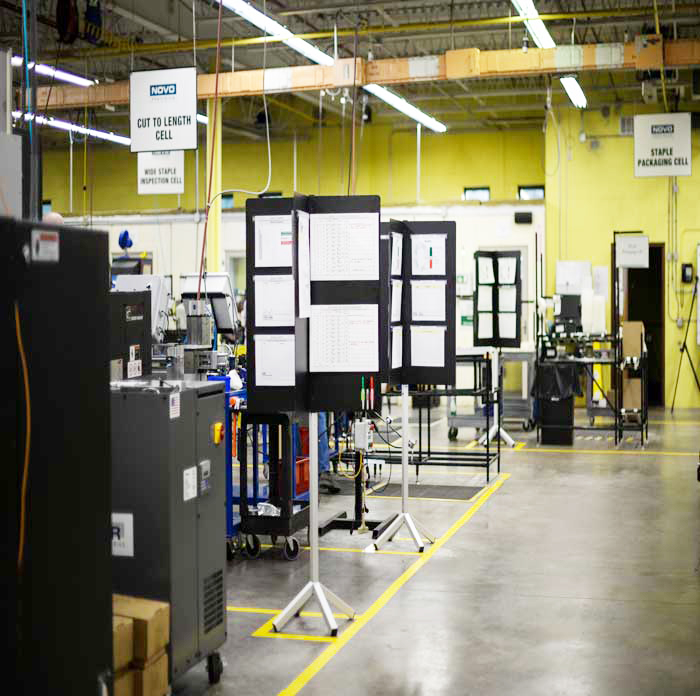 "The Lean Metrics Stand is a great tool for me as a manager. If a line does not hit its daily goal, I have a clear, real-time explanation so we can address the issue before it erodes efficiency. The operators have embraced the Lean Metrics Stand as well. It's helping them work better as a team, with goals that are clear for all to see."
Skip Griffin
Director of Operations
Metal Finishing Technologies, LLC
Intelligently Designed as a Complete Turnkey System
Quick to assemble, Novo's Lean Metrics Stand measures 33"x33"x80" including the topper for identifying the work cell. It's constructed of 80-20 extruded aluminum, engineered for strength, durability and an attractive industrial appearance. At 90 pounds, it rolls easily on built-in casters to wherever it's needed on the shop floor.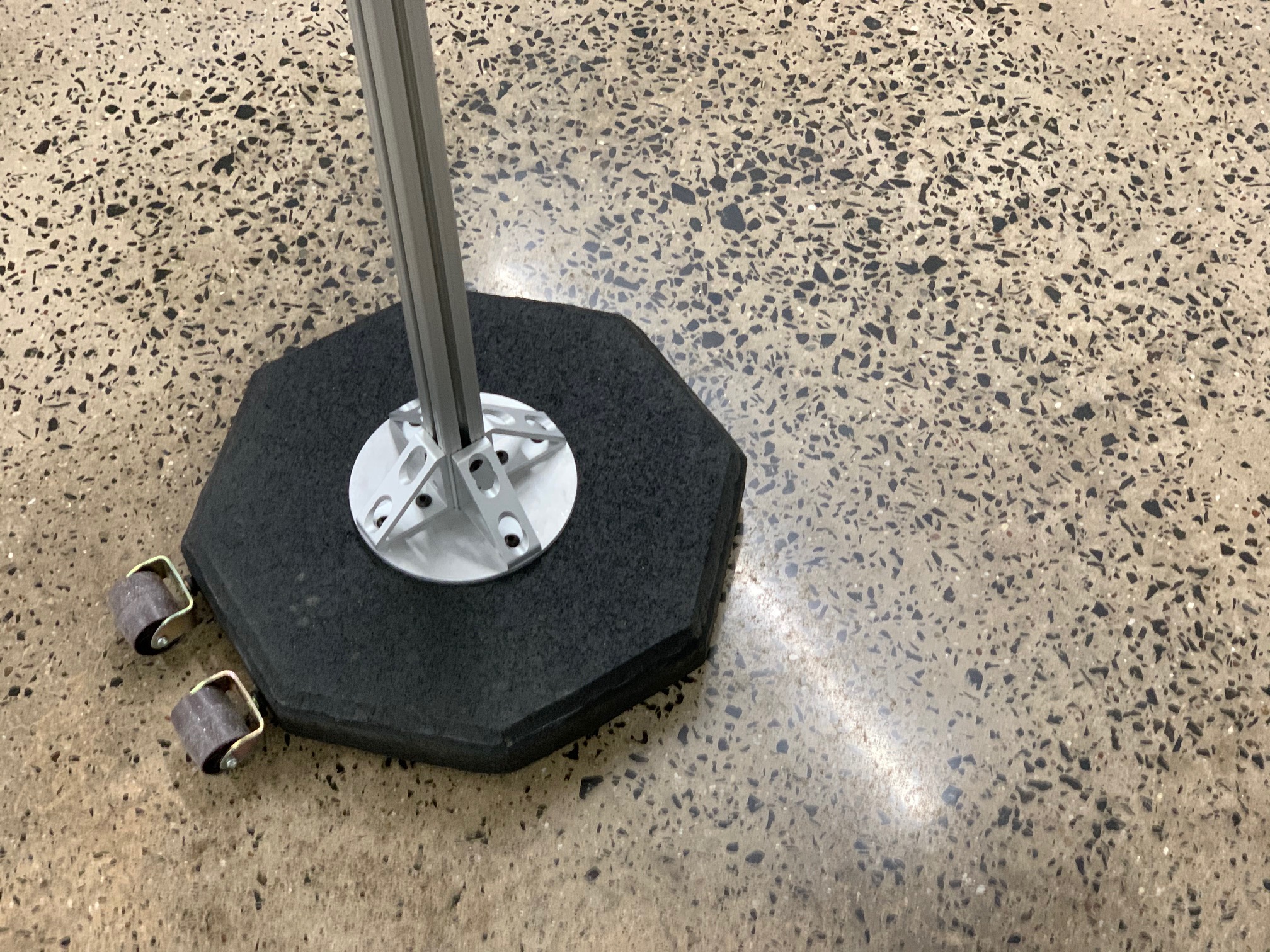 This turnkey Lean manufacturing tool features sturdy clamps to display hard copies of Safety, Quality, Delivery, Cost and Morale metrics, and even includes training materials and electronic sample files to help you create your own data charts. A whiteboard option is also available, with green and red markers to help identify areas above and below goal, and custom logo and graphics are available upon request.
The standard Lean Metrics Stand is priced at $699 USD, while the whiteboard option is $799. Quantity discounts are also available. Best of all, the Novo Lean Metric Stand comes with a 30-day complete satisfaction guarantee.
The Easiest Way Ever to Implement Lean Manufacturing
Novo's Lean Metrics Stand is an excellent way to improve production efficiencies and can be the catalyst for process improvement in your own business—not just in a manufacturing environment, but also across many industries.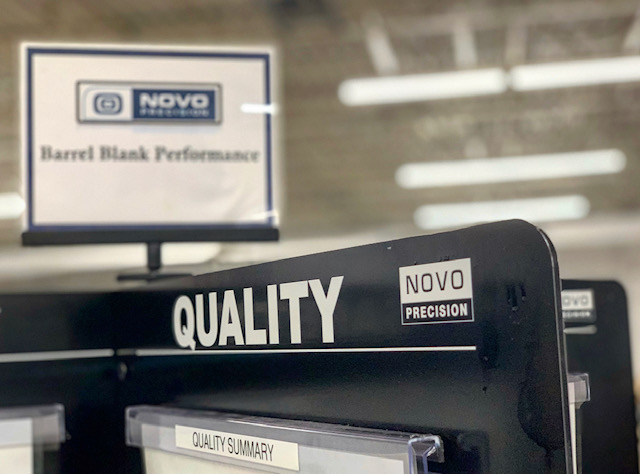 Offices and call centers can use this versatile management tool during their daily walk-through of operations. Even showrooms and retail spaces are perfect settings for delivering the right information, at the right place and the right time with this convenient rotating bulletin board. Whatever your application, the Lean Metrics Stand displays daily performance metrics in a compact, well-organized space to allow all team members to contribute to your organization's success.
Lean Metrics Stand Quick Links
Transforming Your Shop Through SQDCM
Novo President and Lean/Toyota veteran Bill Hazard offers a step-by-step tutorial on using operations metrics and the Lean "Gemba" walk of gathering information through observation and interaction with workers.
Useage Tips From The Novo Shop Floor
---
---