Objective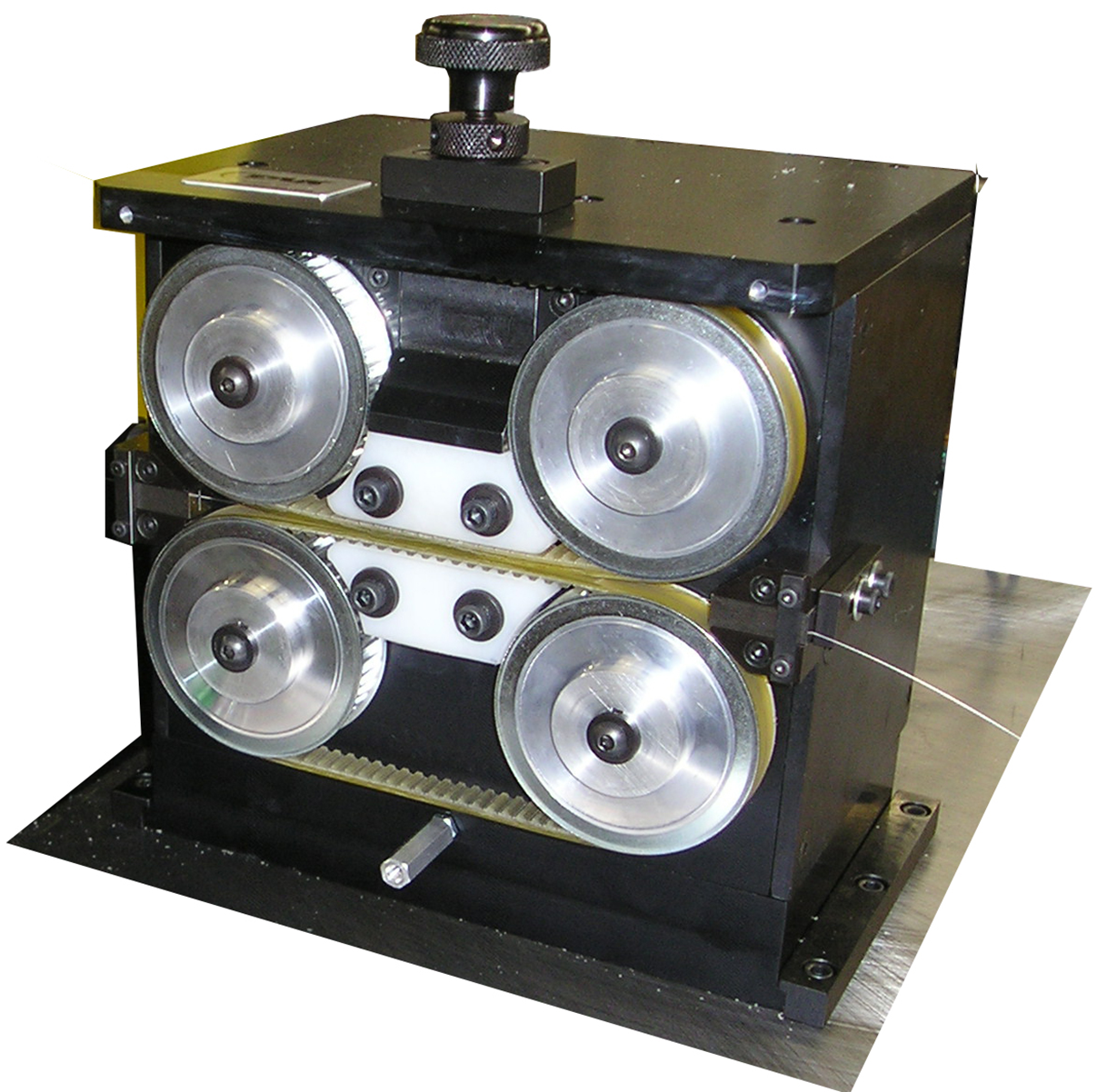 Provide a material feeding device for
integration into an existing automated
stamping system.
Case Specifications
Feed unit must accurately feed and
control several different diameters of a
very brittle plastic extrusion without
damaging or distorting the cross section.
The feed unit must operate as a
slave to a specialized stamping press,
processing a signal from the press
control encoder to determine the
speed and feed length required. Read more
Abrasive Cutting Attachment for Servo Feed and Cut System
Product: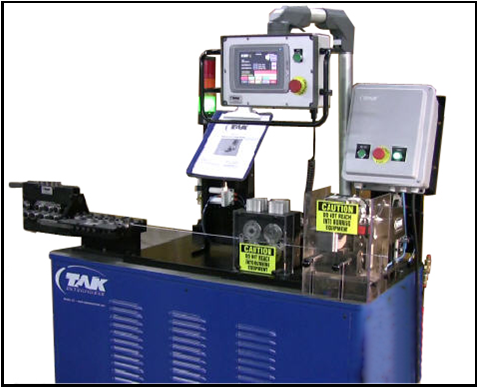 Steel Jacketed Coaxial Cable Lengths
Objective:
Automate the feeding, straightening and accurate
cut-to-length of stainless steel jacketed coaxial
cable with repeatable lengths up to 40 feet. Cut
condition must have minimal burr and no deformation
of cable end ID or OD.
Solution:
To satisfy the requirement for a deformation-free
cut condition,Read more
Colombi In-Line Spring Coiling for Challenging Spring Application
Product: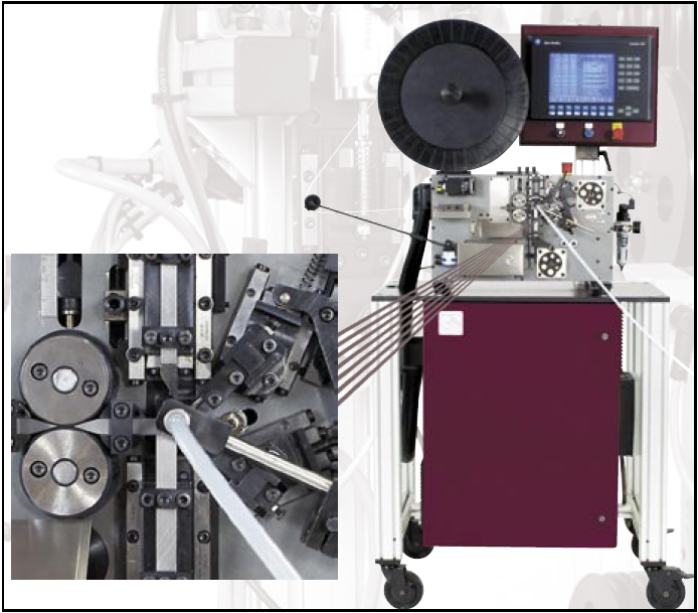 Special purpose automotive fuel system valve spring
Objective:
Provide a cost efficient alternative for the supply of 4
currently purchased springs that have historically proven
to be very difficult and expensive to inspect,
feed and orient for installation in an existing automated assembly line. The customer had been purchasing these springs packaged on manually loaded individual
pallets.
Spring parameters:
Outside diameter = 20.5 mm (.807")
Wire diameter = 0.25 mm (.010")
Free length = 68 mm (2.677") to 120 mm (4.725")
Number of coils = 23 to 35
Coil ratio = 41
Material = 302 SS spring wire
Spring forces = tolerances from +/- .7 to +/- .9 grams.
The tight force tolerances coupled with a relatively large OD,
small pitch and high spring ratio could prove to make these
springs very challenging to coil, stress relieve and inspect in-line.
The COLOMBI engineers accepted the challenge.
Solution: Read more
Multiple Strip Annealing Line
Objective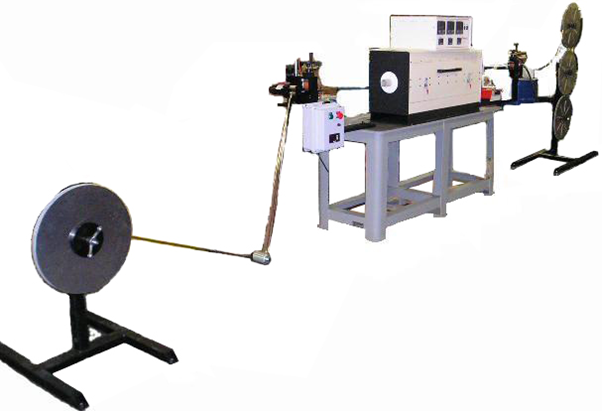 Process three strips simultaneously
from 3 individual coils through an annealing
oven at a controlled speed,
under controlled tension, and rewind.
Case Specifications
-187" wide X .010" thick nickel
-Processing rate at 15 feet per minute
-Maintain 20 lbs tension through oven
-Maintain constant spacing between
strips throughout the process
Solution
Using a customer supplied 3 zone
annealing oven, a custom three coil read more
Ramping up Production on Spring Clip to compete with overseas pricing
Product Specifications: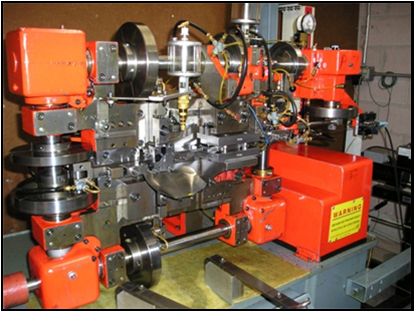 -Spring Clip for Fastening Insulating Gasket on
Appliance Door Seals.
-Wire Diameter: .025"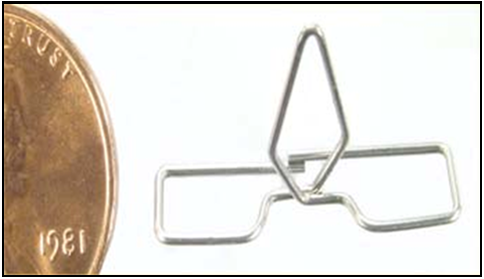 -Material: 304 Half Hard Stainless Steel
-Blank Length: 3"
-Geometry includes 13 Radii and various dimensional tolerances to +/-.001"
Objective:
Design and build tooling for high speed production that will result in low per piece price to compete with off-shore supplier. Maintain tight tolerances on formed dimensions to assure compliance with specifications for automated assembly of completed parts. Specific challenge presented concerned the end forms, which must be closed with initial tension to prevent the possibility of parts inter-tangling during automated feeding.
Solution:
A vertical slide forming machine was selected as the prime mover to form these complicated parts. The available forming motions and visibility of the tooling operation on the vertically oriented machine provided the flexibility and accessibility necessary to complete the complex forming sequence required. The compact design of the tooling area also assured that a high production rate could be attained by allowing minimal tool strokes. From the initial concept to the final tool design, the goal of high speed operation and minimal adjustability were paramount considerations. Unique forming motions and multi-level tool positions were employed to insure accurate and repeatable operation in a production mode. Custom forming slide cams were designed to optimize all tool motions. Tolerance requirements demanded that the incoming wire be held to very precise tensile tolerances from the wire mill. Wire entering the slide machine tooling area required a high degree of pre-straightening to insure proper alignment within the forming tools and to assure final formed condition of the completed part was within tolerances specified. To meet this requirement, a standard TAK 4 Plane Precision Wire Straightener was employed to adequately straighten the wire. A production throughput of 15,300 parts per hour is achieved while a 1.33 CpK quality level is maintained. The processes employed for production and inspection on this very challenging wire form have proven to result in the delivery of 100% quality product for over 10 years. Our customer is able to continue to provide competitively priced parts made in the USA.
Press Releases:
9/1/2017-Novo Precision Expands Cut to Length Department into Cable Wire Cutting click here
6/22/2017-Novo Precision Introduces Cut to Length System w Integrated Chamfering Unit click here
6/12/2017-Novo Precision Offers Broaching Services for the Firearms Industry click here
5/8/2017-Novo Precision Introduces New Cut to Length System with Integrated Rotary Straightener click here
3/15/2017-Novo Precision Expands Firearms Division click here
1/24-Cut to Length Expands to Tube Cutting Services click here
12/6-Wire Cutting Expansion: Medical Wire with Finished Ends click here
10/28-Novo Precision Introduces Firearms Division click here
10/20-New Products Launch: Pre-Cut and Bundled Wire click here
10/4-Launch of New Website click here